The number of adults age 34 and younger who say they drink alcoholic beverages has dropped during a period of rising cannabis use, according to new survey from Gallup.
The polling company said the data suggests that increased use of marijuana by young adults "could be a factor" in their declining interest in alcohol. Another factor could be growing concern that moderate drinking is unhealthy.
The poll, conducted between July 3 and July 27, found that 62% of adults age 18 to 34 consume alcoholic beverages such as liquor, wine or beer. That's down from 72% who said the same between 2001 and 2003.
On average, young adults have 1.6 fewer drinks per week now than they did a decade ago.
Today, 52% of young adults said they're worried about the health effects of consuming alcohol, up from 34% five years ago.
Since Gallup first started measuring cannabis consumption in 2013, the percentage of adults age 18 to 34 who use it has risen 11 points to 25%.
"Young adults' increased use of marijuana in recent years could be a factor in their declining interest in alcohol," Gallup said about the data, which was released on Tuesday. "It's possible young marijuana users smoke it (or use it in other ways) more often than middle-aged users, making marijuana more of a replacement drug for alcohol for them."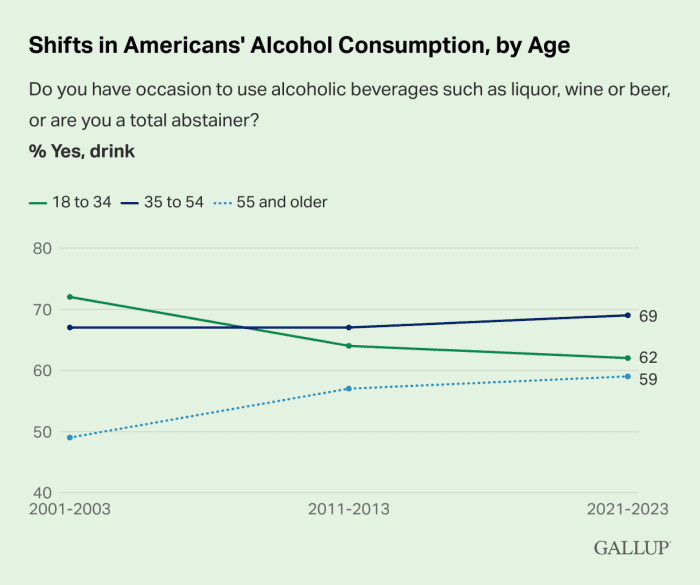 About 17% of adults age 35 to 54 now say they have used marijuana, up from 4% in 2013, Gallup said.
Shifting demographics may also be a factor in decreased alcohol use by younger adults, as the U.S. population of Black, Hispanic and Asian people has increased. Non-white Americans have been less likely than white Americans to drink alcohol.
Separately, craft beer sales have been dropping as the sector cools off, TD Cowen analyst Vivien Azer said recently.
In the category of craft beer, volume has been dropping for the past two years, including a 6% drop in 2021 and a 9% move down in 2022, Azer said. Sales are also down.
While some cannabis companies such as Tilray Brands Inc.
TLRY,
-7.23%
have been rolling out beer products, Molson Coors
TAP,
-0.21%
recently agreed to sell its stake in a cannabis-drink company to Tilray, while Constellation Brands Inc.
STZ,
-1.15%
has avoided further investments in Canopy Growth Corp.
CGC,
-5.60%.
Also read: Molson Coors sheds no tears as Tilray buys its remaining 58% stake in THC drink company Truss Beverage
Also read: Tilray's deal with AB InBev makes it a much bigger beer company — but beers with falling sales, analysts say