Slowing U.S. inflation has sparked hopes of a big turnaround for hard-hit parts of the $10.6 trillion U.S. corporate bond market.
Bonds issued by America's most valuable companies, from Apple Inc.
AAPL,
+1.43%
to Amazon.com
AMZN,
+2.25%
to Microsoft Corp.
MSFT,
+0.98%
to Johnson & Johnson,
JNJ,
+0.02%
have been trading at some of their lowest prices in nearly two decades, a casualty of the Federal Reserve's interest rate hikes in the past 18 months.
Prices for low-coupon, longer duration bonds have been hit particularly hard since the Fed began quickly lifting its policy rate last year from a 0%-0.25% pandemic range.
Rate hikes make older, low-coupon bonds less valuable because major corporations and the U.S. government have been issuing newer bonds, often at yields not seen since the 2007-2008 global financial crisis.
"So many investors got blindsided by the drop in value, and there really wasn't any place to hide," said Collin Martin, fixed income strategist at Schwab Center for Financial Research, in a phone interview.
To help gauge the carnage, BondCliq Media Services put together a hypothetical long-duration, high quality, U.S. corporate bond portfolio with a January 2022 starting value of almost $1 million. They also tracked the effect of Fed hiked rates (see black lines) since the Spring of 2022. While rising off the recent October lows, its value on Tuesday was pegged around $650,000.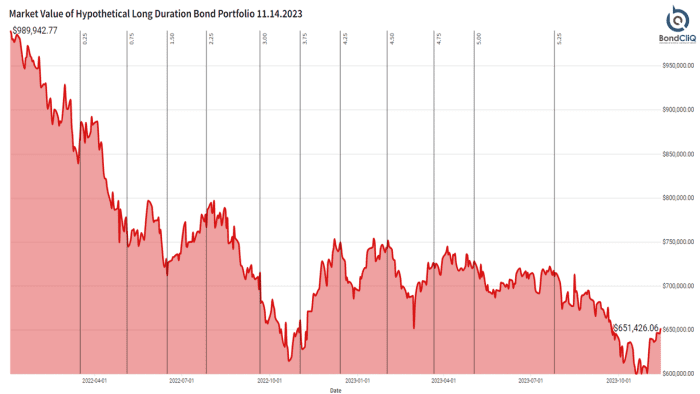 "Given the Fed outlook, it's more likely that prices rise over the next 12 months than fall," Martin said, adding that Schwab expects the next move from the Fed to be an interest rate cut, rather than a hike, given that inflation has continued to slowly recede from peak levels.
The roughly 6.5-year ICE BofA US Corporate bond index was last pegged at a 87.31 price, up from as low as 85 in October, but on pace for a 1% total return for the year, according to FactSet.
Lower bond prices matter for investors if they are forced to mark down their holdings or need to sell at a loss, a factor that contributed to the collapse of Silicon Valley Bank in March.
U.S. bond yields tumbled on Tuesday, and the stock-market
SPX
roared higher after the consumer-price index for October rose less than expected, pegging inflation at an annual rate of 3.2%, down from 3.7% in September.
While that's still above the Fed's 2% target, traders on Tuesday were pricing in 50 basis points of cuts to the central bank's policy rate by July of 2024, according to the CME FedWatch tool.
"The broad market consensus is now in line with our own expectation that the least Fed rate hike of the cycle occurred this summer," said BCA Researchers, in a client note Tuesday.
Price fluctuations for bonds matter less if the debt is held to maturity, and fully repays at par, or $100, as promised. Like in stocks, investors want to buy bonds priced at steep discounts that look poised to rally.
The 10-year Treasury yield
BX:TMUBMUSD10Y
was lower by 19.1 basis points on Tuesday to about 4.42%, after hitting a peak of about 5% in October. Bond prices move in the opposite direction as yields.
Lauren Goodwin, economist and portfolio strategist at New York Life Investments, said investors should seize any relief rallies to rebalance their portfolios to something they expect to be "more durable" for the long haul, including her recommendation to finally add duration as long rates move lower.
Read: Economists in hawkish camp don't surrender in wake of October consumer-inflation print
Beyond corporate debt, the popular iShares Core U.S. Aggregate Bond ETF
AGG
was up 1.3% on Tuesday, according to FactSet, while the Dow Jones Industrial Average
DJIA
was on pace for a 1.4% gain.