Unless you have taken time away from screens lately, you probably know what stock I am talking about.
It's been the talk of the town on popular trading social media platforms, like Twitter and Stocktwits.
I'm talking about MULN.
This stock has been incredibly popular among retail traders over the past week and reminds me of CEI.
So with the volume, the increased attention and interest, and range expansion, I looked to take advantage of 'the next' CEI.

MULN has been on fire lately, with the stock up 312.70% on the month, according to the above chart and Finviz.
With that volatility and momentum, along with the surge in trading volume in the stock, I spotted an opportunity to capitalize on the momentum.
The Trade Opportunity
As you can see in the above chart, MULN made a higher low on Friday and took out the previous day's high.
Intraday, the stock was holding above previous resistance, which signaled to me that buyers were still firmly in control, and it could experience further momentum to the upside.
I alerted my members in the chatroom to the idea and that I was watching the name for a move to the mid $3s: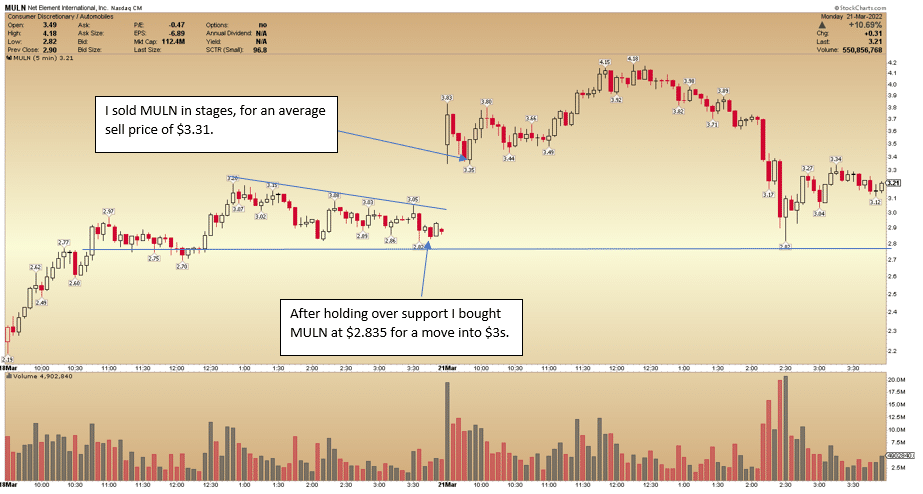 Shortly after that, I bought the stock at $2.83, looking for a move into the mid $3s.

I never got the move I wanted in the after-hours. However, the stock closed strong in my eyes, and therefore I held it over the weekend.
With the stock gapping up over $3, I sold ⅔ of my position at $3.23.

Then, shortly after the open, I sold the remainder of my position at $3.62 and $3.46.
So, I was in from $2.83 and sold for an average of $3.31.
That's a 17% return on a $3 stock.

That wasn't even the best part.
The chatroom was on fire that day and has been rocking lately. 
Shoutout to my moderators, who posted their plans and critical levels and called out what they were doing and seeing in the stock.
And a special shoutout to my members. I have loved reading your positive comments lately.
Let's keep it up!
The Bottom Line
When I notice a small-cap, low-priced stock trading massive volume relative to what it usually does and trending higher for several days, I take notice.
If I am patient enough, these movers can offer significant risk: reward opportunities.
The above trade recap was an example of just one.
There were several other solid risk: reward setups and opportunities shared in the chatroom by my moderators.
Hopefully, there's more to come from MULN.
One thing I am sure of, though, is that small caps are BACK.