Bitcoin has reclaimed the $40,000 mark in the last hour, following indications of progress in discussions between and Ukraine amid the ongoing conflict.
Russian President Vladimir Putin stated that "positive movement" was being made in the negotiations on a "daily basis." Russia is facing penalties from Western countries, among others, as world leaders criticize the invasion of Ukraine.
Bitcoin Spikes Following Putin Remarks
The spike came in the wake of new comments from Russian President Vladimir Putin, who indicated in a meeting with his Belarussian counterpart, Aleksandr Lukashenko, that there had been "positive shifts" in the Ukraine dynamic.
Putin said improvements has been made in the talks between the Kremlin and Ukraine:
"There are certain positive shifts, negotiators on our side tell me."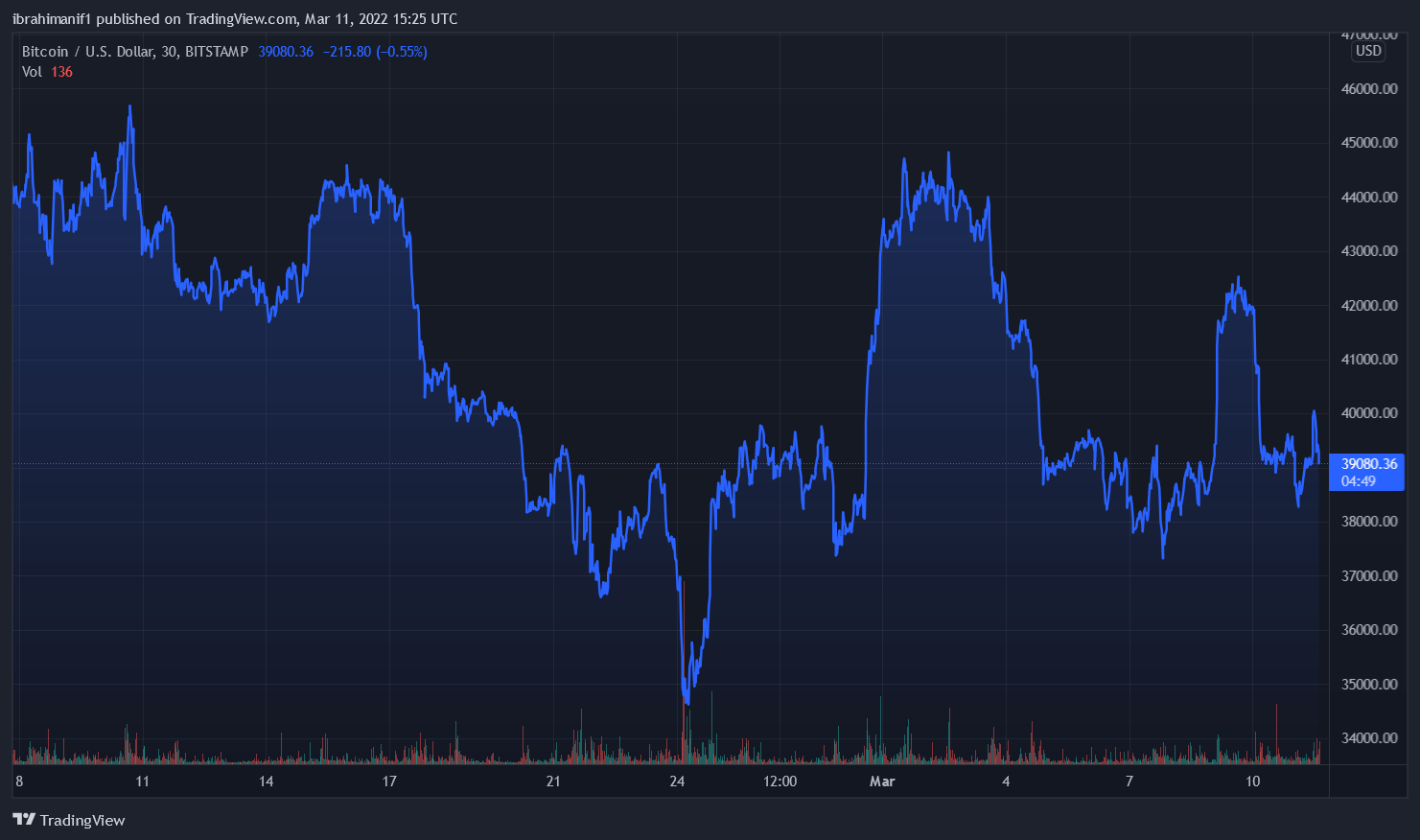 BTC/USD trades close to $40k. Source: TradingView
Putin's remarks boosted global markets. Futures on the S&P 500 rose 1.31%, while futures on the tech-heavy Nasdaq 100 rose 1.65%. Sentiment in Europe was higher, with the DAX in Germany rising 3.41% and the Stoxx Europe 600 rising 2.09%.
At the time of writing, BTC/USD volatility remained high, with bulls aiming to break through $40,000 resistance more convincingly.
The increasing volatility had an effect on liquidations as well, with over $24 million in leveraged positions being wiped off the market in the last hour alone. The largest single liquidation order was on Bybit, worth about $6 million.
Explosive growth in #Bitcoin bitfinex shorts

hate to say it, capitulation incoming pic.twitter.com/FTQGt41UBQ

— Cole Garner (@ColeGarnerXBT) March 11, 2022
Related Reading | Bitcoin On Course To Hit $100K Nine Months From Now, Bitbull CEO Predicts
Traders Unsure Of Market
The cryptocurrency market remains volatile. Bitcoin rose from $38,600 in European morning hours to little more than $40,200 after Putin's remarks were made public. Ethereum, XRP, and Solana's SOL all gained 2.4% in the last hour, while Polkadot's DOT led advances with an 8% rise in the last 24 hours.
However, it's worth mentioning that Russian troops are rumored to be gathering around Kyiv, and some foresee a possible effort to encircle the capital.
Adam Cochran, a well-known crypto critic and analyst, commented on the contradicting signals, saying:
"Markets are so thin and so desperate for relief that we're moving on vague positive news in the Russia-Ukraine conflict while both sides also release worsening statements and escalating action."
Bitcoin stayed at the lower end of its established trading range, with the area north of $42,000 proving impossible to hold for long in 2022.
The latest price action, however, was a godsend for some traders, with popular Twitter account Anbessa informing followers that everything was going as planned.
$BTC/USD Update 📈✅

🔹bullish divergence playing out ✔️
🔹4th entry -> 4 bounce up 3% pic.twitter.com/QqZnheFLyQ

— AN₿ESSA (@Anbessa100) March 11, 2022
The deterioration of Ukraine's position has sent shockwaves through global markets. This week, India saw a massive outflow of foreign capital worth billions of dollars, while Brent crude hit $140 per barrel.
Related Article | Billionaire Investor Says Crypto Outlook Is 'Very Bullish' For Bitcoin
Featured image from Getty Images, chart from TradingView.com