On-chain data shows around 82% of the Bitcoin short-term holder supply is currently in loss, suggesting that capitulation may occur soon.
82% Of Bitcoin Short-Term Holder Supply Now In Loss, While Total STH Supply Declines
According to the latest weekly report from Glassnode, the BTC STH supply is nearing all-time lows at the moment. However, 82% of it is being held at a loss.
The "BTC short-term holder supply" is that part of the total Bitcoin supply that has been held for less than 155 days.
The investors holding this supply are usually the likeliest to sell their coins off during market volatility, and especially when a capitulation flush out occurs.
An on-chain indicator, the Bitcoin STH supply in profit/loss, tells us the percentage distribution between these coins being held at a profit and those being held at a loss.
When a high amount of this supply is in loss, there may be more sell-side pressure in the market as short-term holders capitulate easily.
Related Reading | Bitcoin MPI Rises To Highest Value Since March 2021, Bull Rally Soon?
Now, here is a chart that shows the trend in the BTC STH supply over the history of the coin: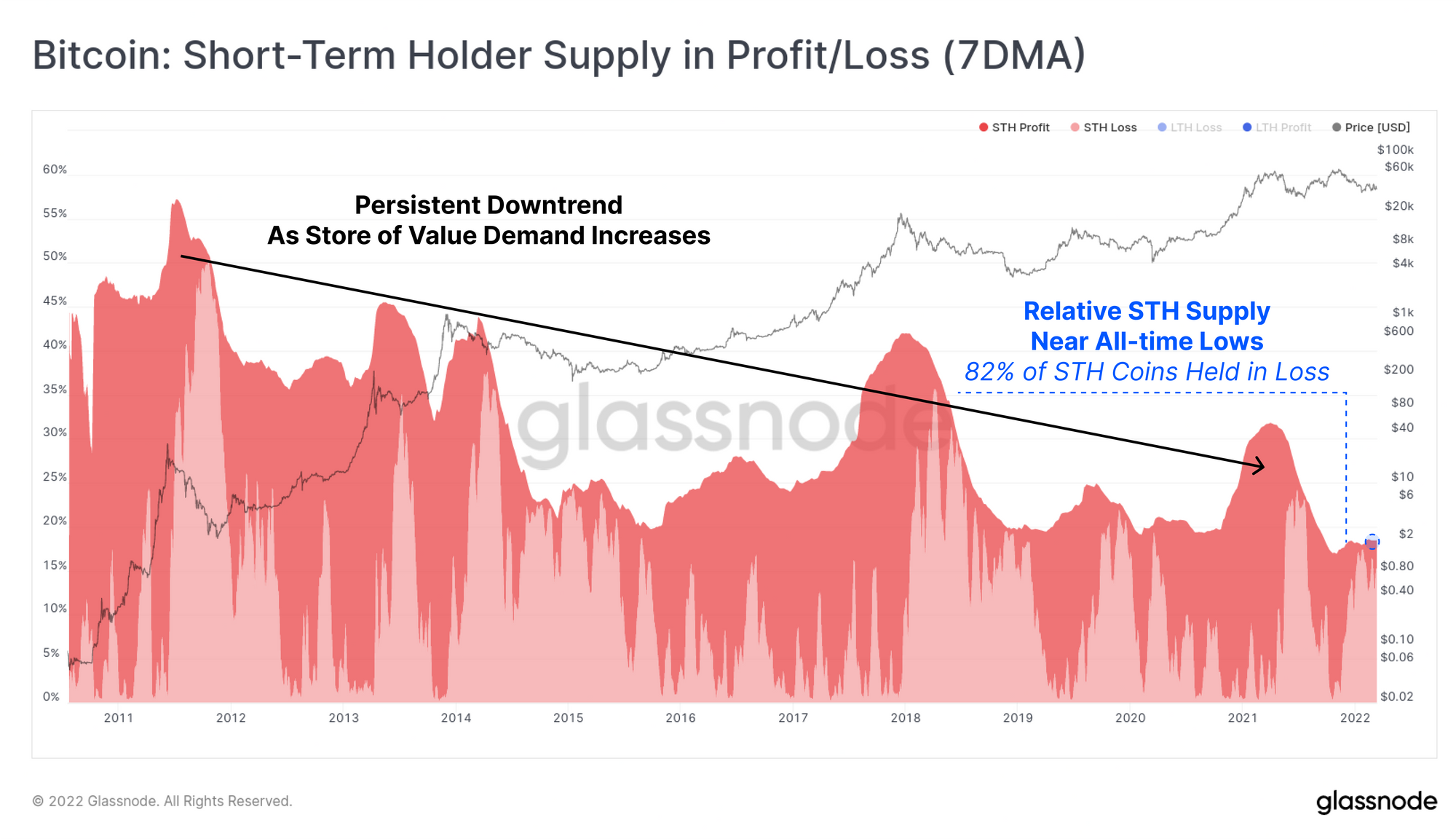 Looks like the value of the indicator has declined over the years | Source: Glassnode's The Week Onchain - Week 11, 2022
As you can see in the above graph, the Bitcoin STH supply has been observing a constant downtrend over much of the history of the coin, and is currently near all-time low values. The decrease in this supply happens when some of the coins mature beyond the 155-day cutoff, thus becoming part of the "long-term holder supply" instead.
Since short-term holders can be a big source of sell-side pressure, the number of coins held by them severely going down can be bullish for the price of the crypto.
Related Reading | Bitcoin Hashrate Swells 15% Since Last Week As Analysts Expect Mining Difficulty To Increase
However, while the supply is low right now, around 82% of it is currently in loss. So despite the decline in total supply, these coins in loss still amount to around 2.5 million BTC, and thus they can add quite significant sell pressure to the market.
As macro uncertainties like the Russian invasion of Ukraine continue to loom over the Bitcoin market, these short-term holders may finally break and capitulate in case their coins remain in the red or go even deeper.
BTC Price
At the time of writing, Bitcoin's price floats around $38.5k, down 1% in the last seven days. Over the past month, the crypto has lost 10% in value.
The below chart shows the trend in the price of BTC over the last five days.
BTC's price seems to have been in consolidation for a few days now | Source: BTCUSD on TradingView
Featured image from Unsplash.com, charts from TradingView.com, Glassnode.com