The SPY closed very weak on Friday. After opening at $428.12 it closed at $420.07. Most tech stocks continue to sell off due to inflation and interest rate worries. 
However, there are still sectors and individual stocks that are bucking this trend, and the Professor has identified 2 such stocks!
Tech continues to get hammered, and commodities-related stocks have exploded. I think it's too late to join the commodities boom in the short term as I think a pullback is likely, and I don't like to chase stocks on FOMO (Fear of Missing Out). 
Two bullish charts identified by The Professor are JNJ and RMBS. While most stocks have been selling off, JNJ and RMBS have shown relative strength, even while the market has been weak. If the market stabilizes, these stocks could be the first to move higher!
Johnson & Johnson (JNJ) researches and develops, manufactures, and sells various products in the healthcare field worldwide. It operates in three segments: Consumer Health, Pharmaceutical, and Medical Devices. 
JNJ provides the daily necessities people need to go about their daily lives. In a high inflation or recessionary environment, when people might begin to cut back on spending, they will usually continue purchases on essentials. Given the current risk-off environment in tech and most other stocks, JNJ has held nicely and is consolidating. 
Considering the uncertainty in tech and growth stocks, JNJ is a consistently profitable company that makes profits quarter after quarter and year after year. This is the type of company risk-averse investors seek, especially when we are in a risk-off environment.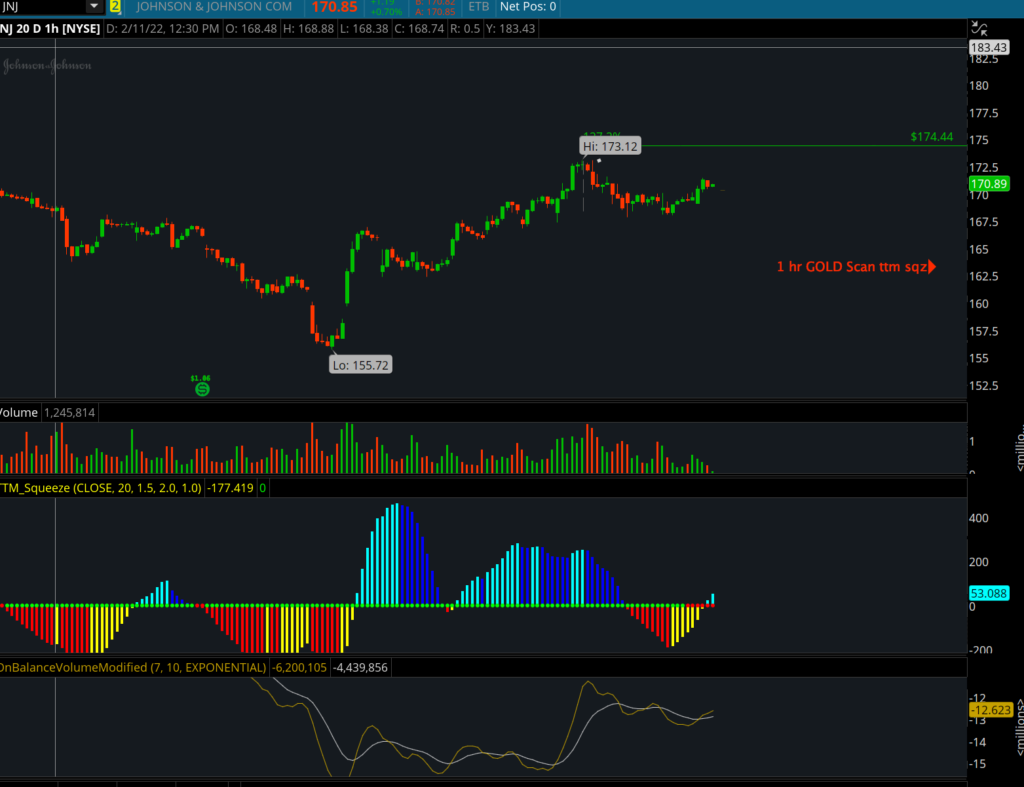 Trade Setup:
TTM Squeeze: There is a squeeze forming on the hourly chart, with rising momentum to the upside. Right now the blue histogram is showing positive price action with the TTM Squeeze showing red dots. I want to see a breakout for the bulls to take control and continue the momentum to the upside. This should trigger the TTM Squeeze to fire long and allow the bulls to take full control of the stock.

OBV: The On Balance Volume is bullish and is trending higher as the stock starts to find a footing at the bull flag. This bullish volume is showing the internals are looking strong and buyers could push the stock back towards pivot highs.
I am looking for a breakout trade in JNJ and will express this Idea using call options. The trade plan was sent to subscribers on Friday.
RMBS
Rambus Inc. (RMBS) provides semiconductor products in the United States and overseas. The company offers DDR memory interface chips, including DDR5, DDR4, and DDR3 memory interface chips to module manufacturers and OEMs; silicon IP comprising, interface, and security IP solutions that move and protect data in advanced applications; it also has a number of patents.
Now, this stock is showing some unusual relative strength. While other semiconductor stocks such as NVDA, AMD, and MU are getting smashed, down 30% or more from their highs, RMBS has been moving higher and is close to its 52-week highs. 
This is very unusual and points to the fact that the market seems to like the continued growth prospects of this company and that it is possibly undervalued at these levels. If there is a market bounce, I expect this stock to be one of the first to move higher given its relative strength.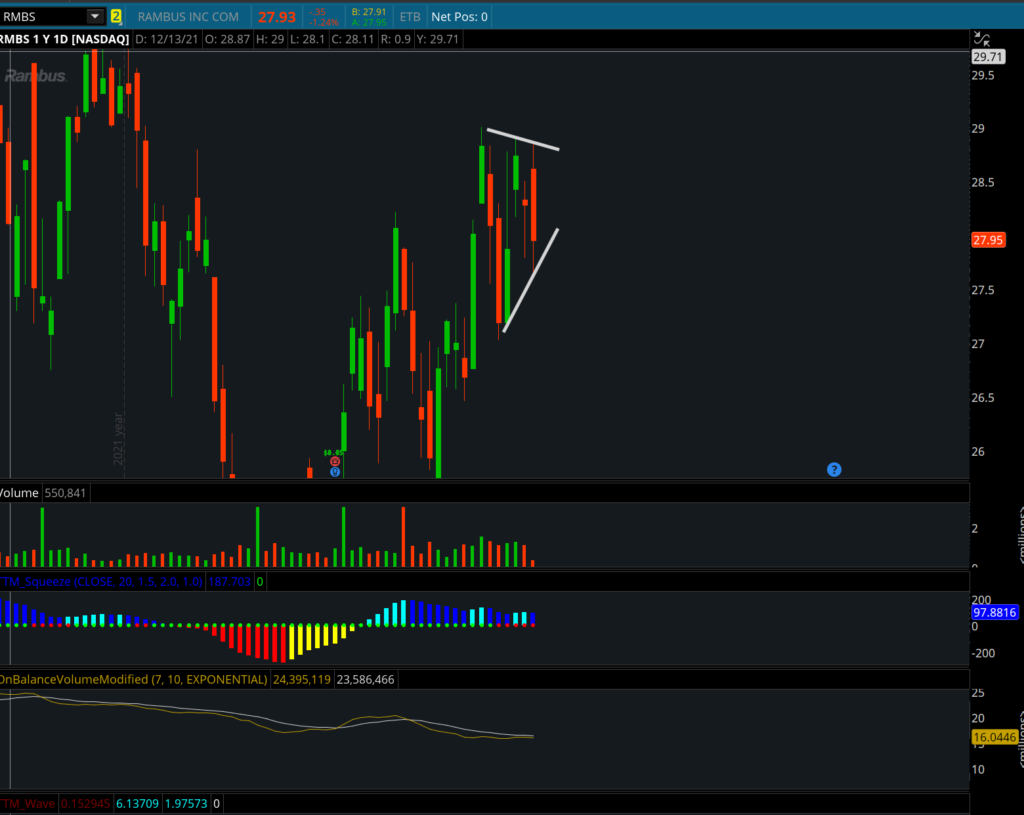 My Trade Setup:
Bullish Triangle: A bullish triangle is setting up with the buyers and sellers fighting for control over the stock at these levels. A breakout in either direction will cause momentum to trigger.  

TTM Squeeze: The histogram is blue indicating positive momentum with red dots signaling that neither the bulls or the bears are in full control. A fire will cause momentum in the given direction.

On Balance Volume: Not quite bullish. I am hoping when the price breaks the upper trendline it will be turning positive. I'll keep my eye on this indicator to confirm the bullish trend.
I am looking for a breakout trade in RMBS and will express this Idea using call options. The trade plan was sent to subscribers on Friday.